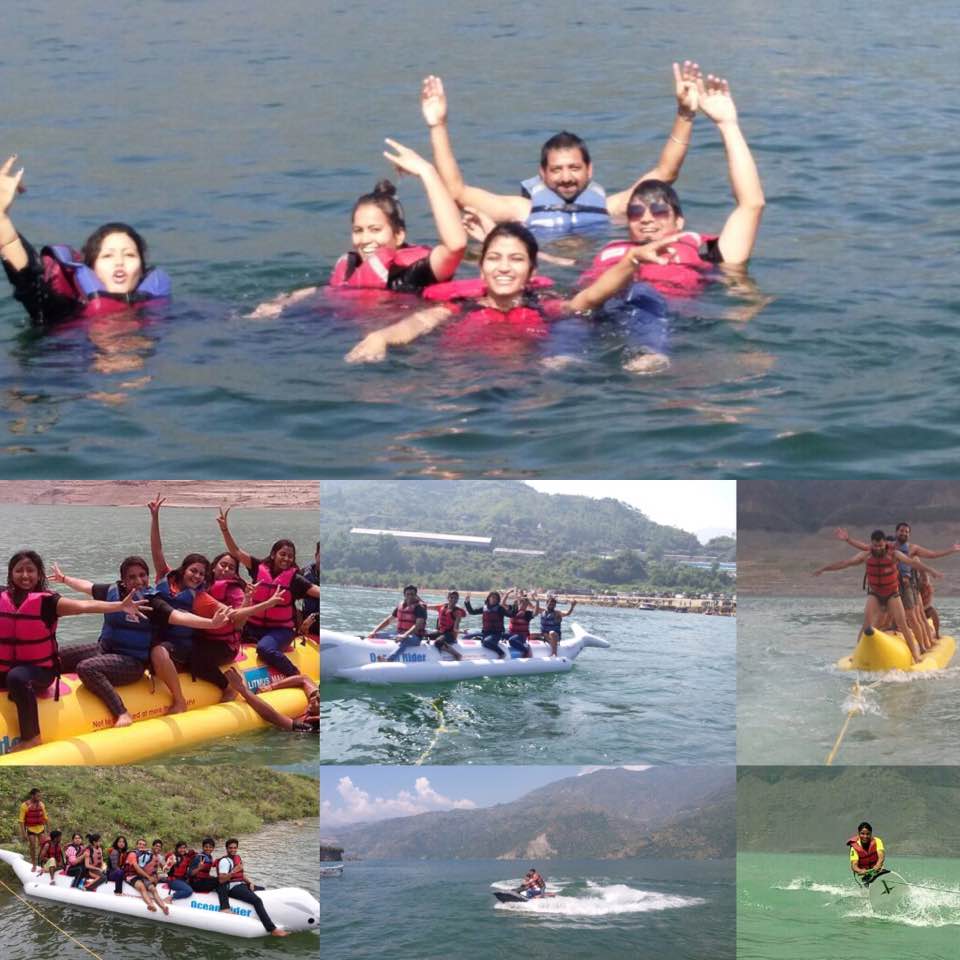 Lakes are the silent speakers of nature,Calm and a beautiful creation. This enlightens the beauty itself 'Tehri'.One of the The visiting spot of uttrakhand. Visting places includes religious temples, lakes, beautiful spots etc. Moreover, it is an adventure package.
Things you'd love to do in Tehri
Banana ride– Banana Ride sounds something fruity and healthy isn't it? But sorry once you try first time it'll be the most scariest moment. The extreme sport activity. Banana ride provides you first with a life jacket, at first it moves slowly and then bumps to higher speed, flips over and suddenly attacks your heart.  Banana ride is itself fun.
Jet ski – it is the ability to reach high speeds while on a watercraft that is easy to control and is attractive to many people. Riding over the slope of water, enjoying a great day on the water. Jet skiing can be quite intimidating
Therefore, Enjoying the fun of riding waves in tehri is one of the best experience, gigantic waves to deal with. Surfing is a water sport in which the wave rider, referred to as a surfer, rides on the forward or deep face of a moving wave, which is usually carring the surface towards the shore. Surfing is the waves of the sea as they break upon the shore
Package For Individual :
Boating-300 rs/person for 30 min
Speed Boating-500 rs/per for 15min
Jetski ride-250/person for 1 round
Banana ride-500/person for 30 min
Surfing-700rs/person 5 attempt or 2 round
Special Package For Groups
Boating , Jet ski , Banana ride for – 900/person
Speed boating , Jet ski , Banana ride for – 1000/person
Jet ski , Banana ride , Surfing for – 1300/person
Rafting Beast Exclusive :
1 Night 2 Day's Package:
Outdoor Camping
Be our guests for a wonderful camping vacation! Lodge in clean tents with proper bedding, Indian/Western toilets, and running water. This package includes:
♥ Boating In Tehri Lake for 30 Mins with our guide
♥ Banana ride for 30 mins
★ Jetski one round
★ Rock climbing,valley crossing,carrom,badminton
★ 3 Buffet Meals
1 Lunch, 1 Dinner, 1 Breakfast
Buffet meals in a large dining area
♥ Bonfire with Music
💡Electricity with power backup facility
→3000 / – per person
Call & What's app :- +91-7055477776